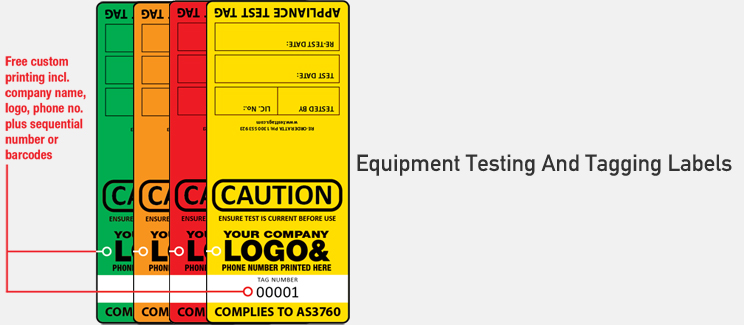 Equipment testing and tagging labels: What are the required information?
Once you have tested an item and are prepared to attach the appropriate test tag, there is required information to be written to the tag as per Australian AS / NZS 3760 standards.
It is not a requirement to fill out all the boxes on the tag. However, doing so can be helpful with data logging so it is highly recommended.
Let's begin by understanding what are the required information and what each field means.
Minimum Information Required on Labels:
' Tested to AS / NZS 3760' — Usually printed on the test tag itself, this refers to the Australian standard on testing and tagging. Although this is mandatory, make sure that you check any tags that are either older than two years or imported from abroad.
Tested By — This may refer to the individual and/ or the business conducting the test. If you are having custom tags made, this can usually be the business logo (or the name) printed on the tag.
Testing Date — The date the testing was conducted.
Next Test Due — This should indicate when the next test is scheduled (or the duration of validity). Make sure you adhere to the test and tag frequency.
Recommended Information to add (not a requirement):
Certificate/ Licence No. — This is the certificate/licence number of the Competent Person who conducted the test and tagging.
Plant Item No. — This number permanently identifies the electrical equipment and basically holds the test history of that particular appliance. When correctly filled out, it will be easy for you to simply refer to your logbook or other reports and verify the test history of any electrical equipment.
Tag number— Professionals in testing and tagging industry use tag numbers to assist with their own documents and log history. Tag data are generally pre-printed, but they can also be written by hand.
Knowing the required information to put on your labels, the appropriate tag colours to use, as well as the frequency to conduct tests holds the key to an efficient test and tag operation.
Visit our Electrical Equipment and Supplies Online Store for a complete range of test and tag labels to buy.