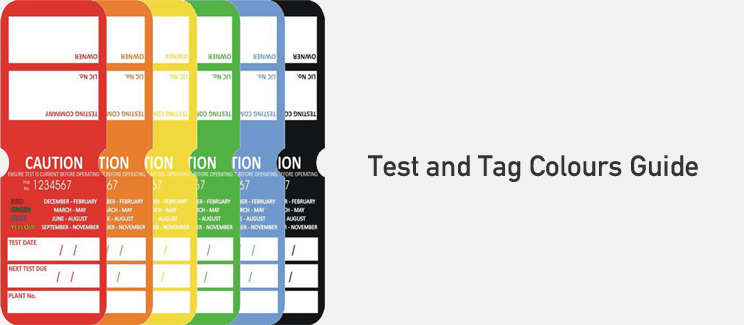 Test and Tag Colours Guide
During a test and tag procedure, you may notice a coloured tag being attached to the equipment. This tag is colour-coded in accordance to the Australian standards. The test and tag colours scheme was implemented to help make it easier to determine the inspection schedules. It will help make it easier to keep track of when it was last carried out and also when it is due next.
These electrical tags are attached to the inspected device. Devices include extension cords, tools or appliances. Only a "Competent Person" can perform the test and tag inspection.
What are the test and tag colour scheme?
The AS/NZS 3012 guidelines recommend a particular test and tag colour coding scheme. Technicians work with 7 colours to label electrical equipment. They are red, blue, orange, green, white, yellow, and black. The technician can choose their own colour coding system (as long as they are compliant with the AS/NZS 3760:2010)
But, it is different for industries like construction, mining, and demolition. For these industries, the following test tag colours applies:
Red: December, January, February
Green: March, April, May
Blue: June, July, August
Yellow: September, October, November
Businesses in these industries are also required to test quarterly (every 3 months). Once the testing is complete, the technician must apply the label in accordance with the inspection date.
Using your own test and tag colours
Companies outside of construction, mining and demolition are free to use any tag colours. If they prefer to follow the same colour schemes as construction companies, they can do so. Or, they can use different tag colours as they see fit.
Apart from the tag colours, the tags must also include other inspection details on the labels. The company logo, technician's name, date of the inspection, next scheduled test date and what standard it complied with.
A detailed report completes the test and tag process. The report should state a description of the test, the results, and the label information. This must be kept as part of the Australian test and tag standards.
The test and tag colours and reports will help check the future testing requirements of your company.