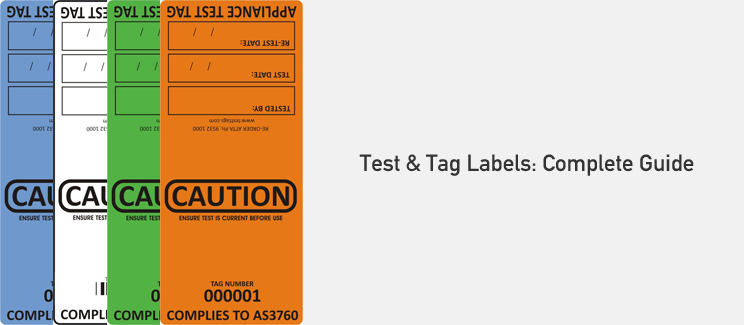 Electrical Test and Tag Labels Guide
Test and tag labels on an inspected electrical equipment is a requirement as part of the AS/NZS 3760 compliance. There are plenty of test and tag label supplies in the market right now. Knowing the correct kind of test and tag label to use is very important. It can help make the tags last longer so you avoid spending more than needed.
The environment where the test tags are used for plays a big role in determining the correct label material to use. The label materials should be able to withstand the kind of environment the labels are used for.
Another factor to consider the purpose of the test tags. Some test tags are used in regular appliances, in heavy-duty construction or worksites, and for all other different purposes.
Medium-Duty Test Tags
These are the most cost-effective test and tag labels to use. As the name implies, these tags are made of materials that are usually not as tough compared to the heavy-duty tags. They cost less but can serve the purpose of common testing and tagging labels. They have good adhesive so it is best used in stable environments like office spaces, homes and other indoor locations.
Heavy-Duty Appliance Test Tags
Heavy-Duty Test Tags are made of durable materials. This makes them an effective choice to use for both indoor and outdoor environments. These test tags are usually made of tough materials. Common examples are PVC, with super-strong adhesive material. This makes them tear-resistant, able to withstand heat, light and extreme conditions.
Heavy-Duty Construction Tags are suitable for harsh and high-risk environments. Use them in applications like Mines, Petrochem Sites, Construction, etc. These are the best tags to use in rough environments. They won't compromise safety even in the harshest conditions.
Security Laminated Test Tags
Heavy-duty test tags can come with a Laminated Security Flap. This will help protect the information on the label better.
Cable TTR Labels
These labels used to organise and label electrical leads. They are flexible and are wrapped around the wires and cables. These labels are usually used for maintenance and troubleshooting.
Failed Tags
Appliances that fail the test and tag inspection must be disposed of right away. They must also come with a visible failed tag label. This will help faster identification of the faulty appliances and equipment.
ATTA Training manufacture our very own test and tag labels. Check out our test and tag supplies online store. Feel free to ask us a question as well.